2023 Ask an Expert Webinar Series: International Watershed Coordination Program Year-in-Review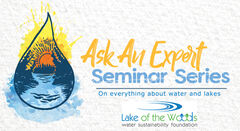 Ask an Expert is a series of free webinars offering viewers a chance to learn from those who study the watershed and work to protect the well-being of our waters and lands. Join us to learn and ask questions about watershed governance, science, traditional knowledge, resource management and more.

Join us on November 27 at 1:00 PM CST Register Now for the final session of the year as we look back on the International Watershed Coordination program with Teika Newton, the International Watershed Coordinator and guests!