The Rainy-Lake of the Woods Watershed Forum –
a meeting of all the minds in our basin.

Since 2004, the annual International Rainy-Lake of the Woods Watershed Forum has been a strategic incubator for cross-border research, management collaboration, networking and communication.
The Foundation leads a partnership of agencies to organize the Forum each year. Attended each year by upwards of 160 research and resource managers, the Forum is the "hub" for all groups working to ensure the future ecological integrity of the waters of the Rainy-Lake of the Woods Basin.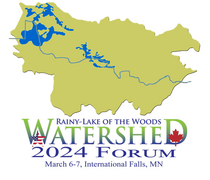 Location: Minnesota North College - Rainy River campus, International Falls, MN.

Date: March 6–7, 2024

Overview: Professional symposium for research and resource managers, policy makers and the public interested in the Rainy-Lake of the Woods Watershed.

Themes: Climate change, nutrients and algae; paeleolimnology, aquatic invasive species; sediment studies; hydrology, fisheries, emerging technologies and more...

We are also planning a focus session on water quality objectives, alerts, and core monitoring needs.

Abstract Deadline: December 15, 2023. Please submit the following to This email address is being protected from spambots. You need JavaScript enabled to view it.
Presenter Information: Name, Research Organization or Agency, Mailing Address, Telephone, Email, Brief Bio.
Submittal Information: Author(s), Presentation or Poster, Title, Abstract, Location of study (i.e., lake name, river name, or GPS coordinate etc.
Registration will open January 4, 2024 — But for now, save the date and get your abstracts in early!

Conference details: more details will be coming soon this fall at the Foundation's website www.lowwsf.com/watershed-forum.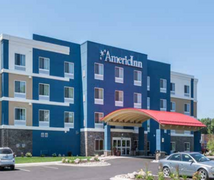 The new AmericInn Inn
2500 Keenan Drive, International Falls MN MN (just 1 block west of the Community College site of the Forum)

Group rate: $98.00 USD per night plus taxes.

Group cutoff: February 4, 2024 rooms not reserved by then will fall out of the block and will no longer be available for the discounted rate

Reservations: I recommend by phone (1-218-598-8510) direct to the property and quote the group code Water Conference. (No central 800# booking for group rate).

(Web booking is possible at https://www.wyndhamhotels.com/wyndham-rewards and quote a the web-specific group code 030424WAT -- but I recommend booking by phone direct to the property 1-218-598-8510)
Group block rooms are held for arrival on March 4th 2024, with departure on March 8th 2024. These rooms are able to be booked for one, or more nights as you wish.
Cancellation Policy for AmericInn: requires cancellation 24 hours and before 3 pm before the booked date of arrival. Any cancellations after this time will be charged for one night, room and tax charge.
The AmericInn has a limited number of rooms set aside at this rate for our Forum. So...book early to ensure you get a room!

Reservations: 1-218-598-8510 (front desk).