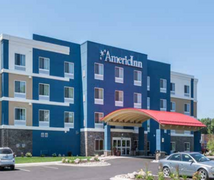 The new AmericInn Inn
2500 Keenan Drive, International Falls MN MN (just 1 block west of the Community College site of the Forum)

Group rate: $98.00 USD per night plus taxes.

Group cutoff: February 4, 2024 rooms not reserved by then will fall out of the block and will no longer be available for the discounted rate

Reservations: I recommend by phone (1-218-598-8510) direct to the property and quote the group code Water Conference. (No central 800# booking for group rate).

(Web booking is possible at https://www.wyndhamhotels.com/wyndham-rewards and quote a the web-specific group code 030424WAT -- but I recommend booking by phone direct to the property 1-218-598-8510)
Group block rooms are held for arrival on March 4th 2024, with departure on March 8th 2024. These rooms are able to be booked for one, or more nights as you wish.
Cancellation Policy for AmericInn: requires cancellation 24 hours and before 3 pm before the booked date of arrival. Any cancellations after this time will be charged for one night, room and tax charge.
The AmericInn has a limited number of rooms set aside at this rate for our Forum. So...book early to ensure you get a room!

Reservations: 1-218-598-8510 (front desk).